If you are a cooking lover, sometimes, spend time making an elaborate meal is a kind of way for relaxing. However, we are busy with work, family, friends, and the various other activities that call us each day. It does not mean that we sacrifice the quality of our food.
There always have solutions to eat nourishing, delicious food and still have time to do everything else.
Home-made vegetarian pizza is one of our favorite quick, easy-prepare meals. We aren't talking about making the dough from scratch (If we have the time, go prepare for it), but rather swap tortillas for a traditional crust and focus on using high-quality ingredients that allow us to make a quick and nutritious pizza.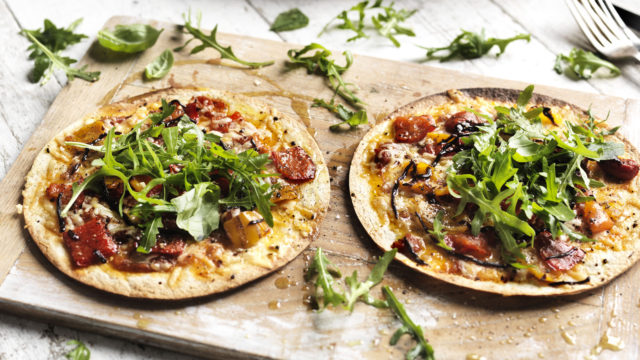 Tortillas made out of sprouted grains is one of the best choices for home-made pizza crust. We know that sprouted grains have an increased amount of protein and other nutrients. It also increases digestibility, making it easier for our body to break down the components and absorb the nutrients.
Ingredients
2 tortillas
1/2 cup tomato sauce
1 tomato is sliced thinly
1 cup spinach or kale, chopped
1/2 cup fresh basil, chopped
3 cloves garlic, minced
1 cup white beans
Olive oil
Salt
parmesan cheese (optional)
Instructions
Turn on the oven to preheat to 375°F. Do not put your pizza when it is not hot enough. Make a pie at a too-low temp, and you'll finish with a pizza that has a limp, soggy crust and overcooked toppings. S
Then, toss the vegetables and beans together with garlic, oil and sea salt and spread out on top of the sauce.
Bake for 10 minutes, sprinkle parmesan cheese on top if you like, and serve immediately.
Cooking is an art full of creativity, where you dance in your kitchen, mix your imagination. Let's get started and you will enjoy every step of the process. Happy cooking!
Read More