If you are an eco-warrior, thinking and acting for the health of the planet, this is for you. If you're like me, you probably have a lot of old things lying around your house. It's not making sense but taking up space, but you're either too busy (or lazy) to clean up or just have more important things to deal with. Well if you're looking for a little inspiration for a DIY project, here are 15 creative ways to recycle empty plastic bottles and get it worked.
Make a DIY Sprinkler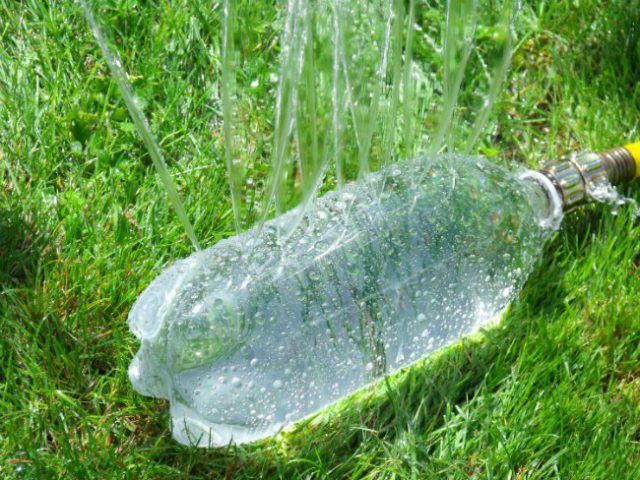 Need to water your garden or you just want to keep the kids busy in the yard? Don't throw your used plastic bottles from now on, they are far more DIY ideas than you think that you can recycle them into useful things. Here is a surprisingly easy and fun way to make your own water sprinklers using a plastic bottle. All you need is a plastic soda bottle, some tape, and your garden hose. Simply poke holes on the bottle for a DIY sprinkler on the cheap.
Have You Known of Ecobricks?
Ecobricks are your simple solution for plastic. Ecobricks are a sustainable way to reuse non-biodegradable plastic waste. Hence, keeping plastic out of the ecosystem and prevents the contamination of the environment.
They take advantage of the fact that plastic is extremely durable to create useful building material to make many things such as furniture, walls, and buildings.

Collect the clean and dry plastic waste that you cannot recycle, anything non-biodegradable. Twist the waste and insert it into a plastic bottle. Compress it as tightly as you can with a stick. It's packed tightly and can be used as a building block.
Recycled Plastic Bird Feeder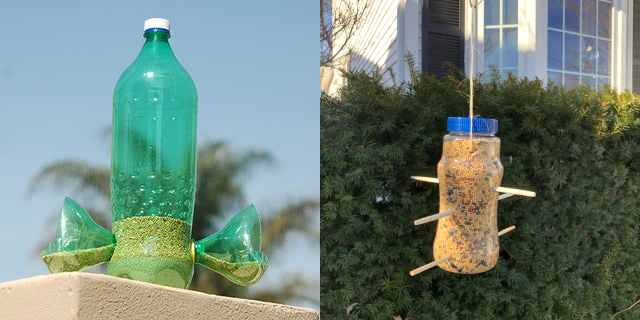 Making bird feeders for the back yard and garden is fun and easy craft ideas. Learn this amazing craft project on how to recycle plastic bottles for birds.
Growing Plants in a Plastic Bottles Greenhouse

You're itching to start planting but it's still too cold out. One of the creative ways is to use empty plastic bottles to build a DIY greenhouse. These perfectly sized greenhouses let you protect plants from early- and late-season cold and start herbs and vegetables early. A few weeks before the start of the growing season, this is a great container to start plants like peppers, tomatoes, cucumber, …It should certainly lengthen the growing season for many plants.
Plastic Bottle Planter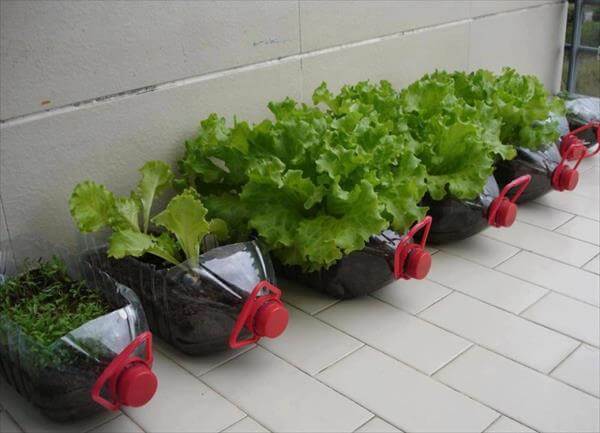 If you are a creative person, DIY lover and love to grow plants, check out this recycled planter letting you repurpose the bottles and giving the bottles hold your favorite planter, herb garden, and plants in them.
Cute Planter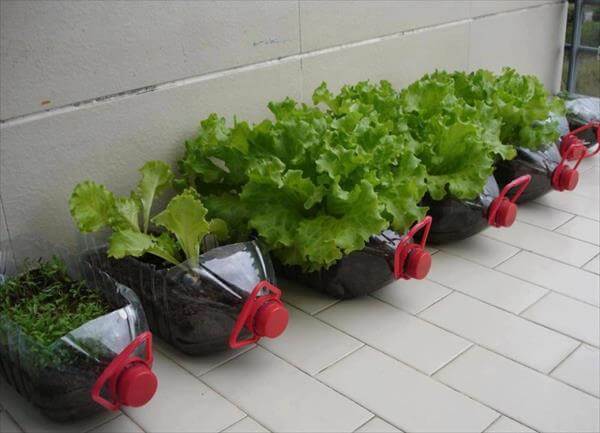 Plastic Bottle Planters: Around here we are always trying to find ways for recycling things. Make your planter look like a little creature and you are all set! These plastic bottle planters are seriously so cute. You can also make a recycled plastic bottle into a DIY cute planter for your kids.
Creating a Vertical Garden, Why Not?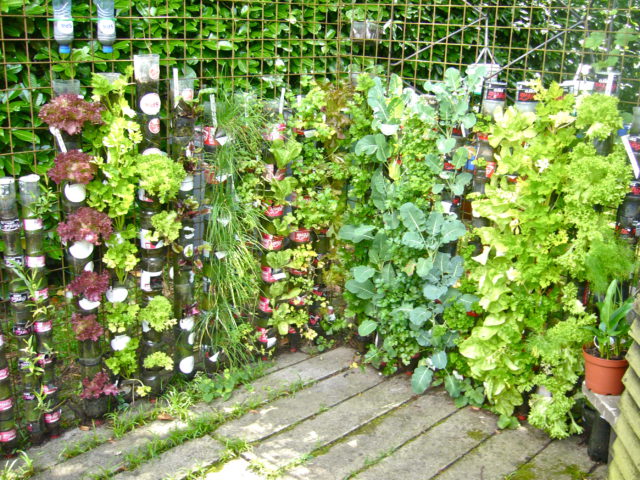 You can turn those leftover soda bottles into a plastic bottle vertical garden. Using empty soda bottles for this project ties in perfectly to the philosophy of sustainable crafting. A vertical garden is also a way to maximize your limited porch or garden space by growing vertically.
Trash Can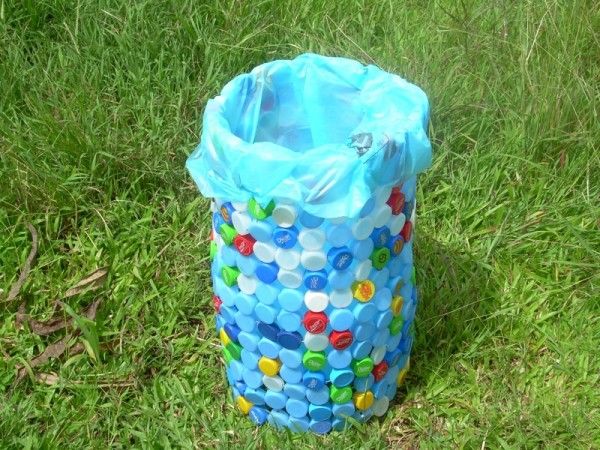 Wondering what to do with your used empty water bottles? This is about a trash can made up of plastic bottles, its a little bit laborious but it worth it to spend a little bit of your time to make it and go green. You can build a trash can with only 54 bottles.
Watering Can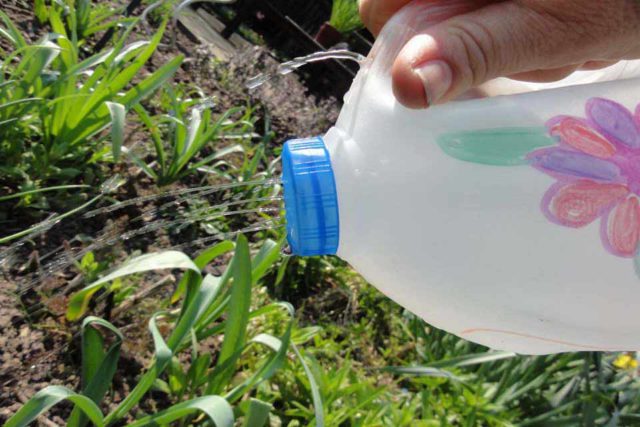 Instead of tossing your water bottle in the trash, check out this eco-friendly watering can. Keep your garden healthy and refreshed while caring for it. Perfect for watering plants in small spaces for indoor or outdoor plants.
DIY Christmas Tree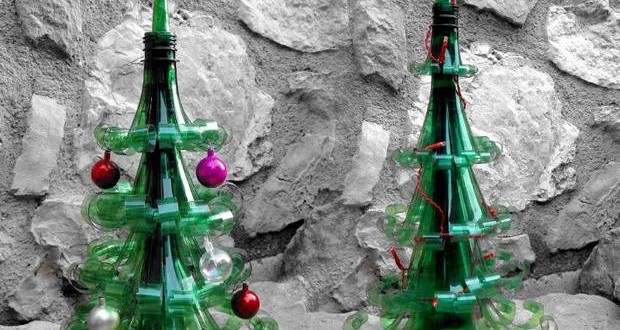 Creating this DIY Christmas tree and see how adorable is this Christmas tree made from green bottles?
Sink Extender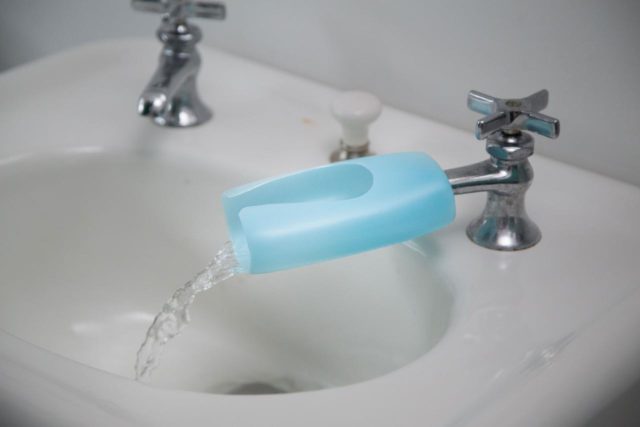 Some sinks have short faucets that make it hard for little kids to reach the water. You really should have a sink extender. You can solve the problem by cutting an old bottle into the shape shown above and using it as a faucet extender.
Plastic Basket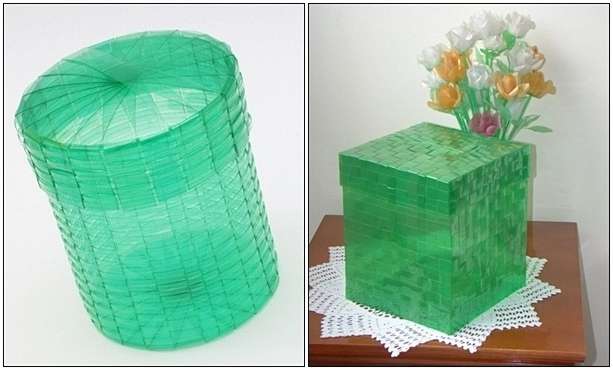 Discover the amazing DIY project of recycling Plastic Bottles into Plastic Basket.
Ottoman Seat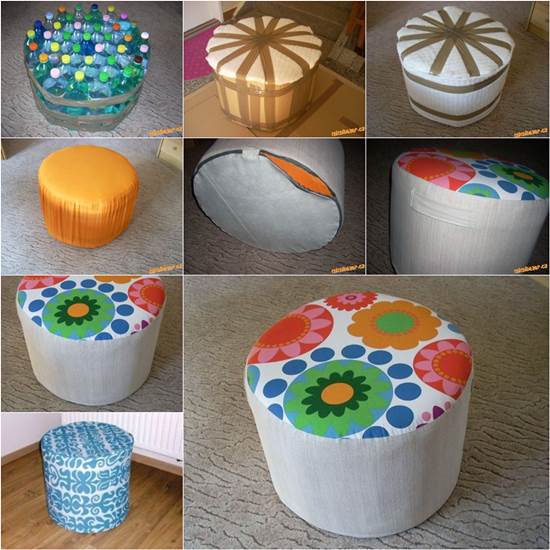 Place the ottoman in your living room for extra seating. Check out the idea of an amazing DIY project to make a simple ottoman from plastic bottles and see how to make beautiful Ottoman Seat with Plastic Bottle & Cardboard Plastic Bottle Crafts, DIY…That is actually an Ottoman Seat made from recyclables!
School Supplies Container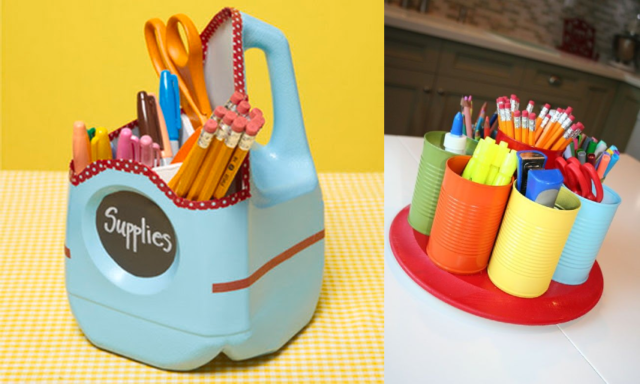 Recycling containers are the ultimate companion for your bookshelf or cubby. That would be a great idea of cleaning out their desk and locker, send them to school with extra storage.
Water Feeder for Animal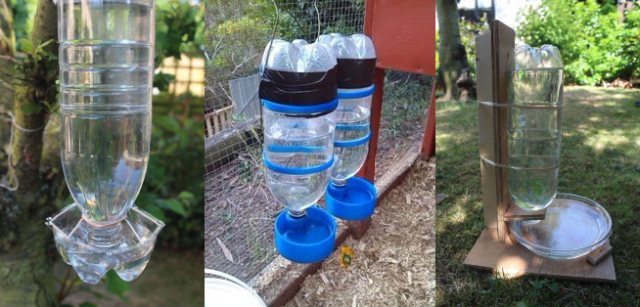 Water Feeder: Learn how to make a simple and easy bottle bird water feeder for wild, pet birds, cats or dogs. It can be easily constructed from used empty bottle available at home.
Read more