Most yoga mats today are made from PVC, a type of plastic known as polyvinyl chloride, which has a synthetic smell. Yoga mats during use release volatile organic compounds, or VOCs, that we can breathe in and that can affect your health.
Related article: 5 Ways To Help You Lose Weight and Save the Earth at the Same Time
While yoga has been scientifically proven to improve our health (both physically and mentally!), there's a major problem: most of the mats we practice every day are made from PVC.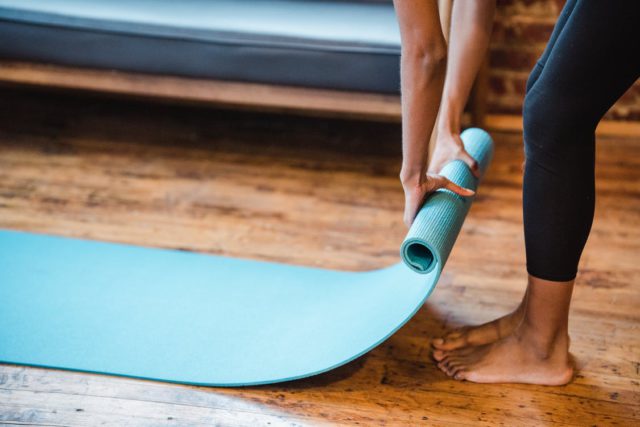 Like all other plastics, PVC is made from petroleum. It's a non-renewable resource, which is really bad for the environment. The manufacturing process creates air, water, and soil pollution, not to mention the carbon footprint of transporting it around the world.
Another big problem with PVC is that it's not recyclable, so it ends up in a landfill! Yoga is for your health – and that's why you should choose your mat to be eco-friendly!
Whether you are just starting to consider getting into a green lifestyle, follow this post for a comprehensive look to start your search for the best sustainable eco-friendly yoga mats. Here's everything you should know before buying new yoga gear.
The best eco-friendly yoga mat material
Choose yoga mats made from this sustainable material when looking for an eco-friendly yoga mat for you. When you are choosing a product, find out the following before you pay.
– Where do they get their materials from, natural or cultivated?
– What is the carpet material?
– Their Green Business Process
– Support local workers
– Is the packaging eco-friendly?
This way, you can compare brands for yourself and decide which eco-friendly yoga mat appeals to you the most. Plus, the best eco-friendly yoga mat materials to choose from.
Cork
Cork is one of the sustainable materials that you should choose when buying an earth-friendly carpet. It is renewable, recyclable, and biodegradable. In addition to being environmentally friendly, it is also lightweight, antibacterial, odorless, and non-slip suitable for yoga mats.
Natural Rubber
Sustainably grown and harvested natural rubber is an option for you as it is non-toxic, perfectly cushioned, and biodegradable. It allows you to do all your favorite poses easily and smoothly.
Recycled materials
Today, you can find a lot of yoga mats made from recycled materials. For example, you can find yoga mats made from recycled swimwear or recycled PET bottles.
Organic cotton
Organic cotton uses 91% less water than non-organic cotton. It should be used not only as an eco-friendly yoga mat but also as a staple in sustainable clothing and bedding.
Where to buy
Cork yoga mat
Balancing is easy with this Cork yoga mat handcrafted with love in Portugal using cork sustainably harvested by a small family-owned farm. Cork is a great choice for an eco-friendly yoga mat because it's 100% natural, hypoallergenic, naturally antibacterial, lightweight, and durable.
Maybe you should know that cork trees are never cut down, instead, the bark is stripped during peak harvest times, which allows the tree to regenerate. Additionally, all Cork products are 100% recyclable and vegan.
Corc Yoga donates a percentage of every order to support a variety of youth mental health programs in Portugal and abroad.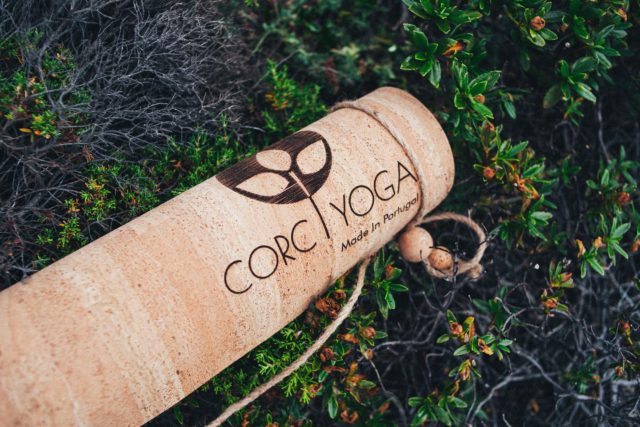 Inhala Soulwear
Inhala Soulwear yoga mats are made from recycled natural rubber, eco-friendly suede. These are eco-friendly yoga mats that are super soft to the touch.
In addition to its commitment to zero waste, Inhala Soulwear also puts out a "sustainability report" on its Instagram profile so people can see the results of their eco journey.
Workers get to work in safe conditions and everyone earns a fair wage. They support women who create their products. When you make any purchase, a new tree will be planted. The packaging is a plus as their packaging is 100% recyclable.
Yoloha
Yoloha is proud to be an eco-friendly brand made in the USA, offering you a wide selection of eco-friendly yoga mats, from signature Unity to Cork Original Yoga Mat + Plant Foam from Sugarcane their. You'll find several options including Original, Aura and Nomad for a more sustainable yoga mat made from 70% renewable materials.
They provide over 100,000 jobs by harvesting cork with decent pay. In addition, Yoloha is active in social activities, and wellness organizations, such as Warrior Surf and Empowered Minds. They donate yoga mats to veterans, doctors, youth, and more. They also make their products more accessible to yoga teachers, with great discounts of up to 15%.
Barefoot Yoga
If you like eco rugs with a rustic look, you'll love the mats that Barefoot Yoga makes. The choice is the Eco Original Yoga Mat made from natural rubber (containing latex) and jute fibers. It contains no chemical additives and is 100% biodegradable.
Barefoot Yoga claims on its website that its manufacturing method is completely non-toxic. They are committed to supporting the environmental movement from products to workplaces.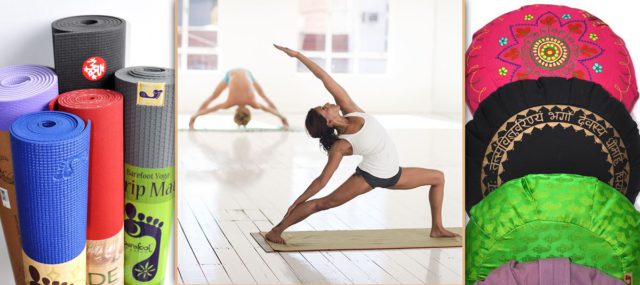 Jade Yoga
Jade Yoga boasts two decades of experience as the manufacturer of the finest ethical yoga mats in the United States.
Looking for a thick sustainable yoga mat? All of Jade Yoga's eco-friendly yoga mats are made of sustainable natural rubber, which is why they are non-slippery.
You can also find hemp yoga mats like the Mysore Yoga Rug. But their products are mainly made from natural rubber. This material is extracted from the rubber tree, a sustainable and renewable resource. They are committed to complying with all US environmental laws.
They ensure good working conditions and fair wages by complying with US labor and consumer laws. Jade Yoga also has a partnership with Trees for the Future and they have planted more than two million trees to date.
Abhinehkrafts
Abhinehkrafts produces organic cotton mats and is definitely one of my top picks for eco yoga mats. These rugs are hand-woven in India and they are machine washable, which I love. You can request a pre-coated natural rubber coating to prevent slipping. They allow it as an option to avoid waste if someone doesn't have a need.
The organic cotton they use is certified by the Global Organic Textile Standard (GOTS), ensuring complete transparency from farm to finished product. You can also choose a sustainable yoga mat made from grass and jute. These are premium rugs manufactured from naturally growing Elephant grass and/or Indian reed grass.
Abhinehkrafts products are all handcrafted by female artisans and are low-emissions.
yogasanamats
Yogasana mat is woven organic cotton mat in India. We've applied 15 years of experience to create exceptional earth-friendly yoga mats. The yoga mat you're using takes 10 days to make, is hand-made, step-by-step, and zero-emissions. The weaver's signature is attached, showing the craftsmanship and quality guaranteed for your yoga journey for the next 15 years.
Yogasana is a classic and traditional yoga mat that is perfect for most styles of yoga. You can completely clean it by putting it in the washing machine.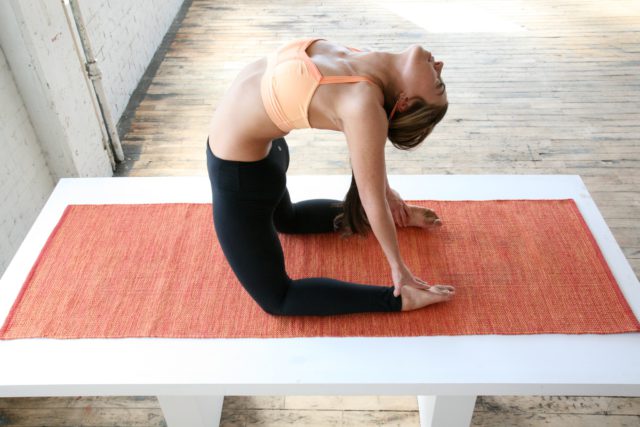 Bio energy product
Bio-energy Product's Yoga Mat and Landing Mat is an eco-friendly yoga mat made from sustainable natural rubber that is perfect for incorporating Grounding into your workout routine. You're working hard to improve your health – so why not use this time to train your body and improve your health with its many benefits.
Related article: Bio-energy Products Review: Working at Earth Friendly Products
FAQs
How often should I clean my yoga mat?
Experts recommend cleaning your mat after each yoga session to remove bacteria that accumulates when you fold it, especially after a sweaty class or a hot yoga session.
However, the frequency can vary depending on many factors, such as the type of yoga you practice, the intensity of your sessions, and what brands your yoga recommends for the particular mat you're using.
How do I clean my yoga mat?
Yoga mats often come with separate cleaning suggestions. Check out what kind of material your carpet is made of. The simplest and most effective way is to use a dilute soapy water solution to wash away dirt and bacteria such as fungi and bacteria.
You can also use a gentle wipe on your skin or a dedicated yoga mat cleaning spray to keep the mat clean. If it's a fabric rug, you can even put it in the washing machine.
The principle is to let your carpet dry completely in the air before storing it for safekeeping, as bacteria can multiply in a humid environment.
Especially with natural rubber yoga mats, you should not dry them in the sun, as they can fade under the harsh rays of the sun and become brittle and fragile.
Can I recycle an old yoga mat?
Right! You can. You can reuse your yoga mat for another purpose. These could be pads or coasters. Let your imagination soar with no.
Read more