Parents can help their children build healthy habits early in life that will bring lifelong benefits. Eco-friendly habits do not just bring a positive attitude, they're actually necessary throughout their lives.
That means it's a good time to think about how we can inspire your kids to be more sustainable and keep our environment healthy. So how can you encourage your children to go green and develop eco-friendly habits at a young age? Try these five tips to get you and your children started.
Gardening Together
Gardening improves fine motor development and engages all of the senses. From picking up tiny seeds to pulling weeds, and gently caring for your seedlings and plants, gardening encourages the development of all skills every step of the way.
If your kids are picky eaters and turn their nose up at the sight of a vegetable, gardening encourages healthy eating. When growing a vegetable, they might become curious enough to taste-test the fruits of their labor.
Once children see how much time and effort they spend on gardening, they will likely become more empathetic towards those who help put food on our tables every day. Gardening teaches your kids responsibility and creates environmental awareness.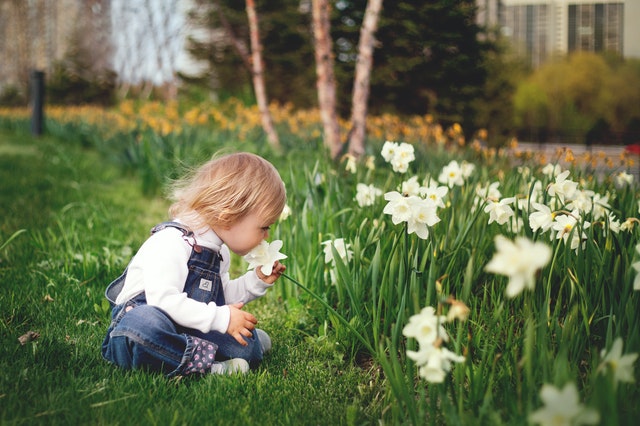 Teach Your Kids to Reuse
To reuse that means you keep using the products you have, instead of throwing them away and buying new ones. You can teach your kids to get in the habit of reusing things at home.
Using reusable rather than disposable, products such as mugs, dishes, water bottles, cloth napkin instead of single-use things. When you must use them, show your kids how many they should take as they need.
Reducing Waste
According to the EPA, more food waste ends up in landfills than any other material. Teach your kids how to minimize household waste through daily routines.
Let your kids put on their rubber gloves and start sorting through the mess. The object is to learn items that could potentially be removed from the waste system, reducing the amount that ends up in landfills.
Take your kids shopping with you and show them steps to cut down on waste such as say no to disposable shopping bags. Avoid single-use items. And, use what you already have instead of buying something new whenever possible.
Volunteering With Your Children and Teens
Spending time in nature to teach young kids to care about the environment. Going for volunteering, camping, or even just playing outside is a good place to start.
Volunteering with children may sound like a challenge, but there are lots of kid-friendly volunteer opportunities. Plant a tree or clean up a park—there are so many ways to get kids involved. For example, you can help your kids donate their used clothing and toys instead of throwing them out. Just be sure to get a reward after!
Talk about Environmental Issues
Talk to your kids about the environmental issues we are facing and what we can do to help. Ask them about their favorite animals and educate them about endangered species and how taking action can prevent extinction.
If your family spends vacations at a lake or beach, use this opportunity to discuss how they can help keep these places clean and free of litter. Don't forget to give them a compliment when they do the right thing.
Conclusion
Teaching kids to be eco-friendly make them have a sense of responsibility in the environment around us. From gardening to picking up trash, there are countless ways to make habits for your kids. When children learn sustainable practices from a young age, they're more likely to carry these habits throughout the whole life, ultimately contributing to a healthier planet.
Read More