Halloween 2020 is approaching. It will be a weekend full of trick-or-treaters the dreadful décor in the department store's front yard. The adults were wearing horrible makeup with spiked heads or wounds.
Every Halloween, many families spend huge sums of money on candy, decorations, and greeting cards, all of which generate huge amounts of waste. Of course, people who live environmentally friendly lifestyles never want that.
We always have tips to make this Halloween more earth-friendly, and even save you money.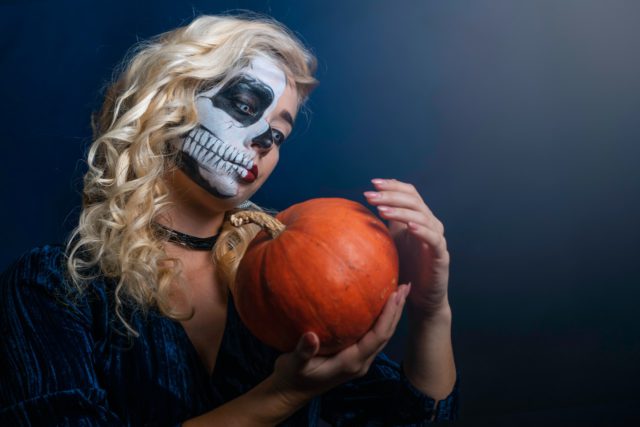 Prepare organic gifts
Sugar candies are not good for your kids and your health at all. But rest assured, many companies specialize in making healthier sweets alternatives to traditional candies ranging from lollipop to bear marshmallow. They offer organic treatments with no chemical colors, artificial flavors, or corn syrup.
Use power-saving led lights for decoration
Decorating for a sparkling garden on Haloween day is indispensable. But instead of using regular lights, you can use LEDs or solar-powered lights to illuminate the path leading to your front door. Solar led lights will help you take advantage of solar energy into electricity to light the whole path without worrying about electricity.
Swap outfits with friends
Maybe years ago you bought yourself a perfect Halloween outfit. But if you're still looking for costumes for Halloween 2020, skip the big Halloween store and inexpensive materials. Instead, try swapping out Halloween outfits with your neighbors and friends. You can even come up with new ideas for a performance outfit by combining multiple costumes together.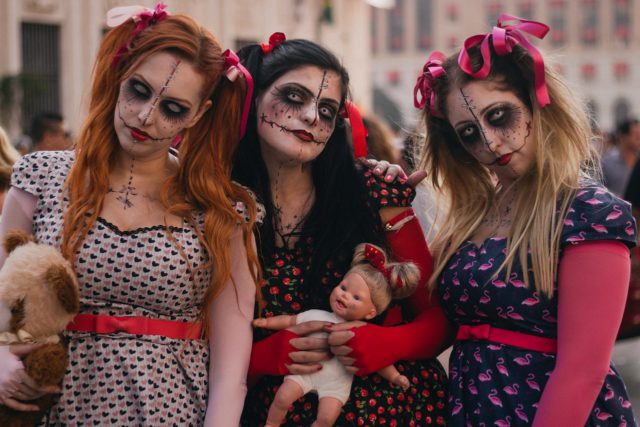 Make use of available things
We know it's easier to buy some new stuff to celebrate Halloween 2020 and make us happier. But if you are an eco-friendly river person then there is a greater concern than how to reduce waste while having fun. So, you can make the most of the pumpkins from the previous year or decorations that can be used.
If you have to buy more at the supermarket, think about a reusable grocery bag or use a magazine basket to go shopping.
Check out the DIY Halloween ideas
DIY outfits and decorations are easier than you think, can save money, and bring family members together.
Plus, you can teach the kids how to make Halloween crafts for a good experience. A recycled bulb witch or egg-box pumpkins are great ideas.
Clean your yard without using water
If you are looking forward to trick-or-treaters, then perhaps you should clear up any fallen leaves in your yard. Instead of using a hose, save large amounts of water by sweeping them with a broom. Don't forget to put those leaves in your compost pile.
Do not throw the pumpkin guts away
Halloween would not be complete without a pumpkin lantern in front of the house. This year, instead of throwing away the gut of the pumpkin you've grated, you can use pumpkin seeds to bake for a snack. The guts also will contribute to your composting plan.
Eco-friendly Halloween party
At this year's Halloween party, be sure to prepare your recycling cartons for your used beer bottles and soft drinks cans. If it's a small get-together, use your ready-made plates and mugs to serve. You know how bad using one-time plastic products are.
If you don't have enough dishes, you can look for disposable items made from barley or bagasse. This ensures it can decompose into the environment after you use them.
Go for a walk instead of traveling by car
The area where you live will surely have many interesting things waiting for you at this Halloween celebration. The best part sees everyone's costumes. So instead of driving, take out your flashlight and take your kids for a walk around the neighborhood. This is not only fun, good for the feet, but also earth-friendly.
Give your outfit the next day
If you can't keep your Halloween costumes for next year then don't throw them away. You can donate your outfit to a community program near you. Maybe there's a local school or troupe that loves fairy wings and firefighter hats.
In Summary
Whatever sweet eco-friendly ideas you come up with in this Halloween, it means a lot in your efforts to save the earth. Enjoy the eco-friendly Halloween 2020, save money, and still having fun.
You Might Also Like