Switching to organic laundry detergents is an easy way to be kinder to the environment. These cleaners tend to contain no or fewer chemicals that can irritate the skin and pollute the environment.
Related: 4 Ways to Reduce Household Waste This Holiday Season
What are Eco-friendly detergents?
In the simplest terms, Eco-friendly detergent means that the detergent is designed to have little or no harmful impact on the environment. For products that inevitably have some negative impact on the environment like detergents, being eco-friendly means as little damage as possible. If you want to check that a product is "environmentally friendly and organic laundry detergents," look at how it is made and its ingredients.
Eco-friendly detergent manufacturers strive to be more sustainable when manufacturing and shipping their products.
Eco-friendly detergent Packaging
Today, as recycling becomes a habit for consumers, packaging needs to be made of recyclable and recyclable materials such as recycled paperboard and reusable bottles. First of all, if you prefer to buy liquid laundry detergent, make sure it is fully recyclable or give you the option of composting.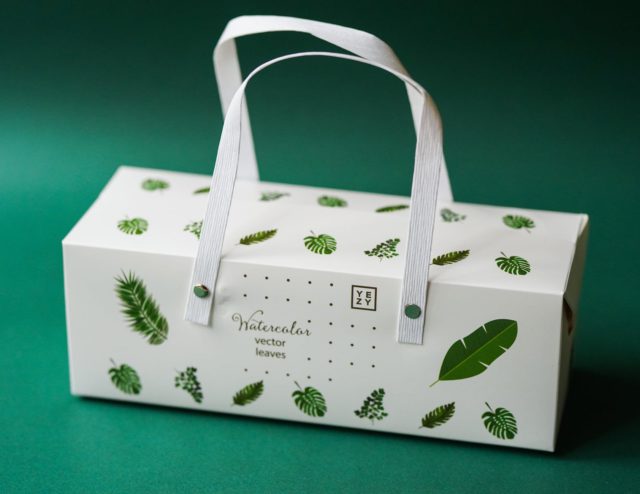 Energy choice
Producing washing powder requires energy, producing renewable energy will have less impact on the environment.
Eco-friendly detergent Production
Improvements that save water by using water recovered from the production process also reduce wastewater.
Selection of ingredients
The first thing to consider when buying Eco-friendly & organic laundry detergents is the chemical composition on the label. Do not buy products containing phosphates. Phosphates are chemicals that can cause an overgrowth of plants in bodies of water, leading to the destruction of ecosystems. There should also be no chlorine bleach or brighteners as these will most likely end up in natural ponds.
You should stay away from some very common ingredients in traditional cleaners that can be harmful to the environment such as Sodium Laureth Sulfate, Phosphates, Chlorine Bleach, 1,4-Dioxane, Dichlorobenzene, Optical Brighteners.
What are the best zero-waste laundry detergents?
Kind Laundry
Why settle for mostly water in your detergent when you can have all the cleaning power you need in one detergent sheet? ​​​​​​​​​​​​​​​​​​Make the switch today to a more concentrated and eco-friendly option. Kind Laundry strips is an eco-friendly alternative to the traditional liquid and powder detergents in the market.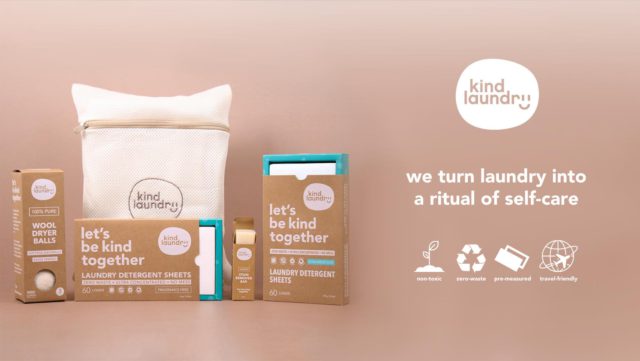 1. Dropps
Dropps are plant-based organic laundry detergents made in the Midwest United States. Made without dyes, phosphates, chlorine and harmful third-party environmentally tested chemicals. The composition of Dropps is provided by plants and natural oils such as patchouli and eucalyptus. It's all prepackaged in a water-soluble shell so you don't need to measure.
Plus, it's delivered to you in compostable, plastic-free packaging with carbon-free shipping. Dropps are ideal for zero waste laundry, safe for babies and sensitive skin.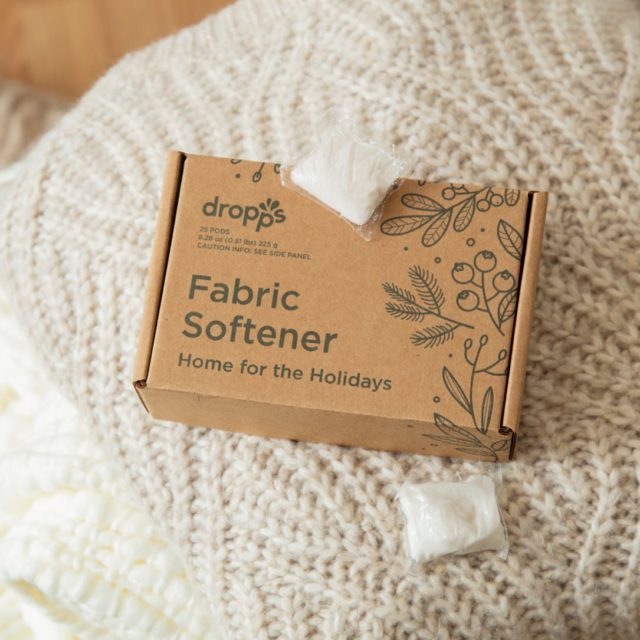 2. Tru Earth Eco Strips
Tru Earth Eco Strips is an eco-friendly laundry detergent that will work for your family. Unlike all other traditional laundry products, these come in the form of small sheets that you simply add to your washing machine. Tru Earth washing strips easily dissolve completely in hot and cold water.
What makes Earth Eco Strips eco-friendly is that it produces a much lower carbon footprint associated with transporting this very mild cleaner. It is also packaged in a plastic-free cardboard box, which you can also recycle or compost the packaging.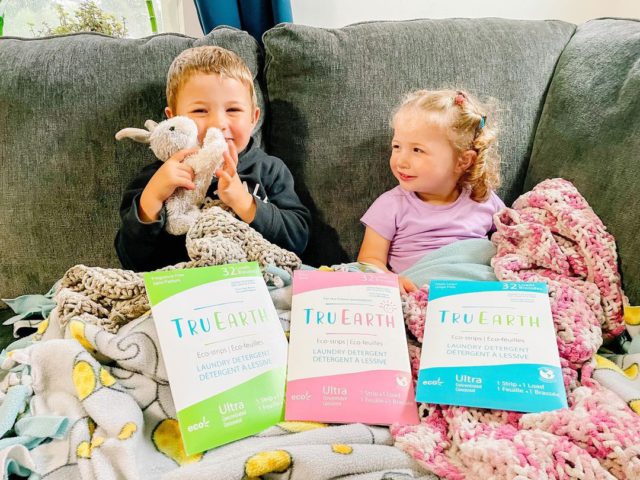 3. PUR Home
PUR Home loved by thousands of people is an all-natural brand. They use plant-based ingredients to create a formula that is twice as concentrated. The ingredients in the product are clearly listed online and Leaping Bunny certified. It is completely safe for our skin, clothes and planet.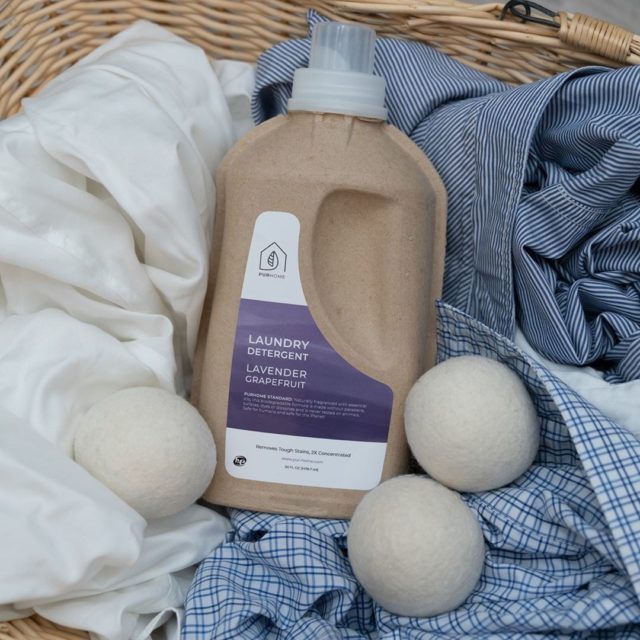 4. ECOS washing powder
This eco-friendly ECOS laundry detergent is also a plant-based one. It's also not tested on animals, which makes it a vegan and cruelty-free option.
The product manufacturing process is committed to Zero waste. This means that ECOS products become carbon neutral, water neutral and made with 100% renewable energy.
The only downside is that the company does use plastic packaging, but it's still recyclable.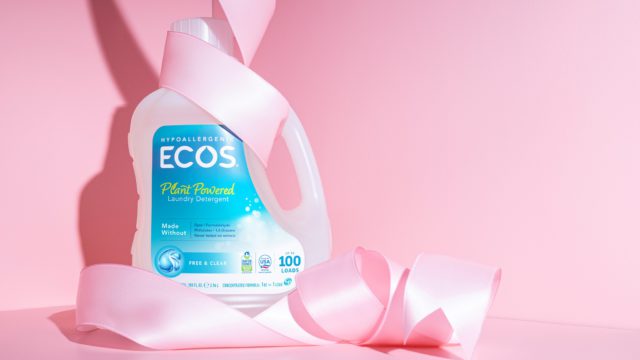 5. The Simply Co.
Simply Co's three-ingredient laundry detergent, Baking soda, laundry soda, and organic vegan castile soap removes stains effortlessly with up to 60 loads while being earth-safe. They use biodegradable formulas, recyclable packaging, and bulk purchase options to reduce single-use plastic waste. The Simply Co. products are completely safe for babies, children, and people with sensitive skin.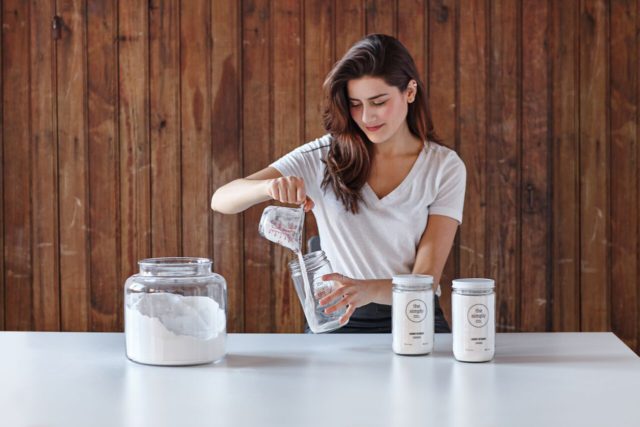 6. Puracy Natural Laundry Detergent
Puracy is one of the best natural laundry detergents in concentrated liquid form. It's completely plant-based, and the company has also worked with doctors to make sure it's a hypoallergenic cleanser. That means no bleaches or chemicals and no irritation for people with sensitive skin and babies.
One potential safety improvement for the environment is to provide refillable bags to reduce waste or to make the bottles compostable. But they're completely recyclable, so they won't add to the plastic waste in landfills.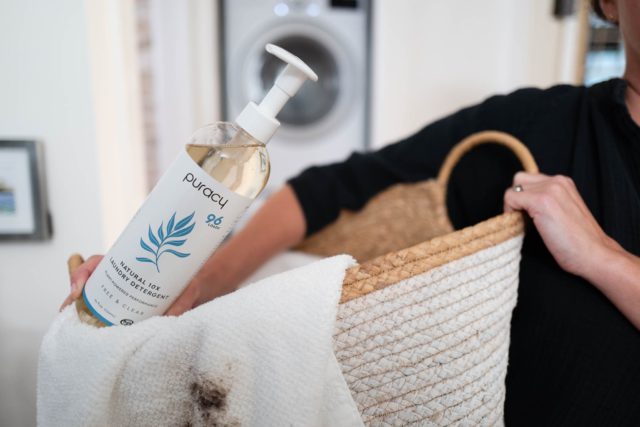 7. Blueland
With a mission to reduce plastic and waste, the packaging of Blueland laundry detergent is completely compostable. Blueland laundry detergent is also completely hypoallergenic to chlorine, which is better for the planet and your body.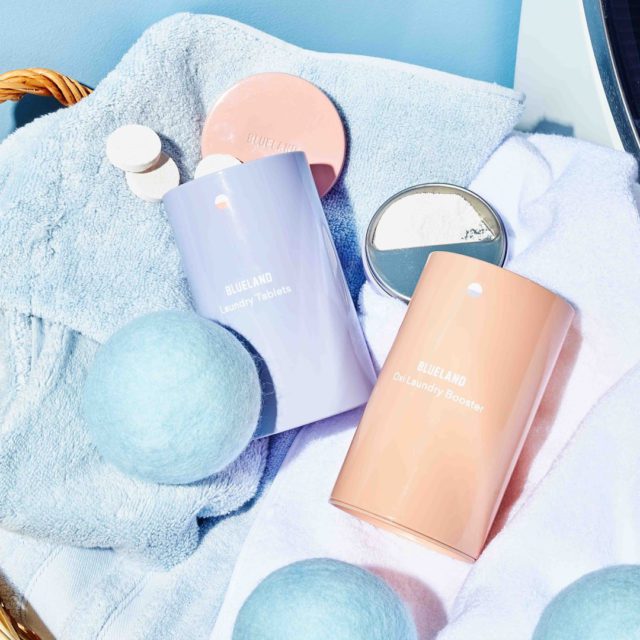 8. Seventh Generation Detergent
This is the best natural laundry detergent for odors and for those who don't like using laundry detergent. Seventh Generation Detergent has at least 96% plant-based ingredients. Even so, eco-friendly detergents still have impressive stain removal capabilities. At the same time, it is also suitable for anyone with sensitive skin as it is fragrance-free.

9. Biokleen
Biokleen has provided non-toxic cleaning agents, plant-based products for professional services and toilets. Concentrated laundry detergent is cruelty-free, it's safe for people with allergies or sensitivities to chemicals, and has no negative effects on water sources, plants, or wildlife.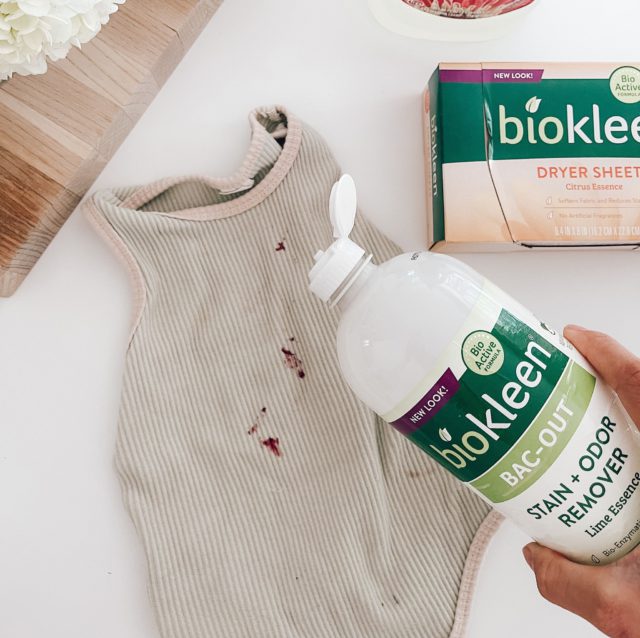 10. Tide natural laundry detergent
Tide has introduced a number of eco-friendly laundry detergents with 100% renewable energy processes to the market. Tide natural laundry detergent comes in a cardboard box and it contains a recyclable plastic bag.
Tide natural laundry detergent ingredients have also been selected to be completely plant-based with EPA approval. That means less impact on the environment both from production and from environmental waste.
Overall, it works very well with most types of laundry, but you may need to purchase a separate stain remover for harder stains.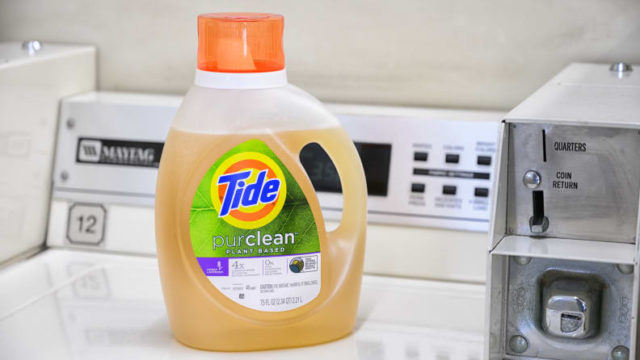 Discover natural laundry detergent recipes for moms
If you have sensitive skin or just had a baby, then you most likely need a natural laundry detergent recipe. This homemade laundry detergent recipe will keep your clothes clean without irritating your and your baby's sensitive skin.
Eco-friendly laundry habits
1. Wash less often
If you keep track of how often you load the washing machine, that's a big number. That means you are using a lot of energy, water and laundry detergent. Your underwear and socks can be washed after one wear, but most other things can easily be worn 3 or 4 times.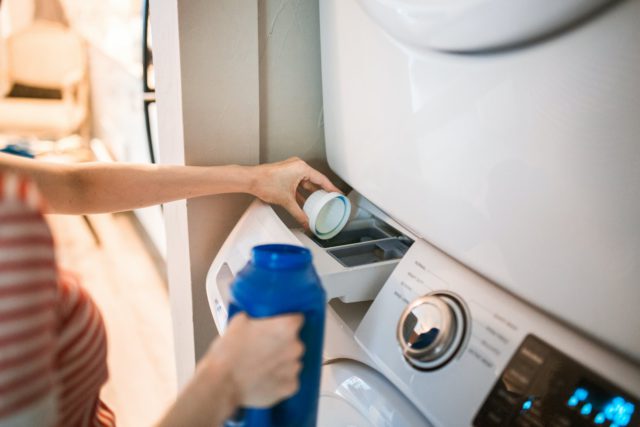 2. Dry clothes naturally
This is probably one of the biggest wastes of energy for any household including an energy-efficient clothes dryer. In the summer months, it's easy to hang clothes and let them air-dry within a few hours. But even the dry and windy days of winter can dry out your clothes. The dryer should only be used for loads of laundry that need to be dried quickly and for persistently wet days.
3. Use the cool wash functions
Using the cool wash function will work for most of your clothes since most of them aren't terribly dirty. Only wash at a higher temperature when you are washing heavily soiled and stained clothes in the machine. In addition, many eco-friendly laundry detergent products often perform better at lower temperatures and that will significantly reduce the carbon footprint of your laundry routine.
Read more